Cinderella's Carousel at Sunset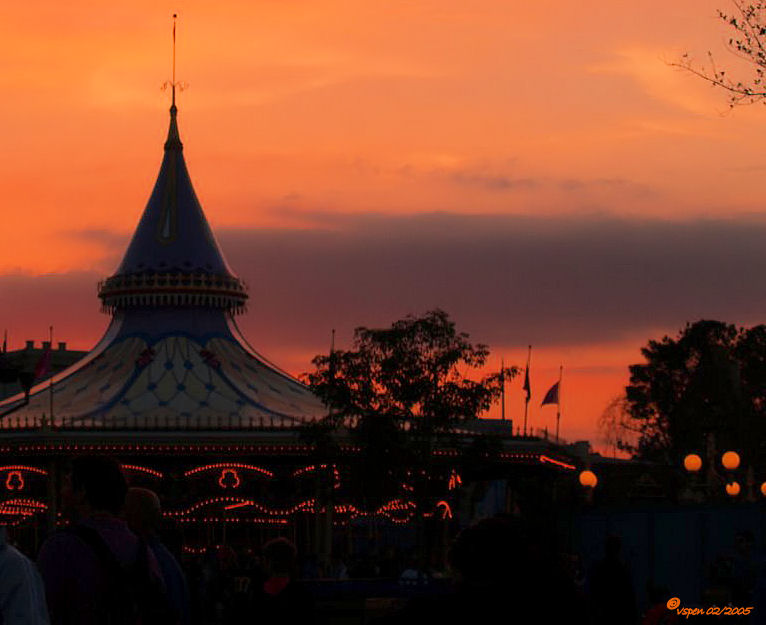 Copyright ©2005, Valorie Spencer
Viewed times
I really feel I missed the mark on this picture. It had a lot of potential. Please tell me how I could have made this a better picture.
Cinderella's Royal Carousel at Magic Kingdom Walt Disney World, Orlando Florida. This picture was taken just after sunset. From my vantage point I could see the carousel clearly and I was losing light quickly. I used the "sunset" setting on the camera to capture the orange tone but everything else is just too dark. I couldn't make adjustments fast enough and didn't notice it was slightly out of focus until viewing it at home in Master.
Shot in TIFF, the image presented here is straight off the camera - resized for this website.
My intention was to crop the carousel to the bottom left third which would showcase the beautiful burnt sunset against the spire of the carousel. I wish the carousel lights would have come out better. I don't care about any of the dark stuff in the foreground and I'm fairly glad the people walking around are darkened.
Photographer:
Valorie Spencer
Folder:
Florida Style
Uploaded:
20-Feb-2005 21:25 CET
Current Rating:
7.00/1
View all ratings
Delete my rating
Model release available:
Camera:
Olympus E300
Exposure time:
Aperture:
Focal length:
Lens:
Focusing method:
ISO:
White balance:
Flash:
no
Image format:
Processing applied:
none
Various:
see description.
Image resized to:
625x766