Great Blue Heron - 17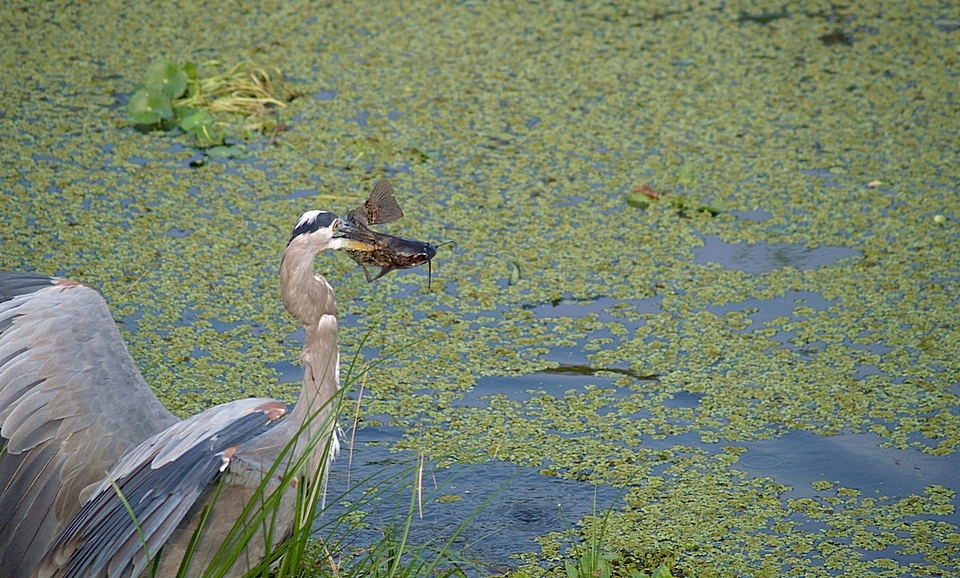 Copyright ©2007, Leon Plympton
Viewed times
GOT-CHA!!!
Once the GBH visually locked onto its prey it moved ever so slowly, easing itself towards the water's edge, then: SPLASH!!! It was over before my eye-hand communication could accomplish anything - like take a photograph.
The best I could do was this shot as the GBH was almost in its upright position again, its wings not yet resting by its side, and only a small ring of disturbed water remaining in the duck weed.
It's a catfish - good eating, even by human standards. Note that the GBH's beak did not grab the catfish - a la chop sticks; both the upper and lower beak pierced the tough skin of the catfish (Note to self: I'm impressed!).
| | |
| --- | --- |
| Photographer: | Leon Plympton |
| Folder: | Common area |
| Uploaded: | 19-Aug-2007 21:46 CEST |
| Model release available: | |
| Camera: | Olympus E1 |
| Exposure time: | 1/640 |
| Aperture: | f-4.5 |
| Focal length: | 150 (300) mm |
| Lens: | ZD 40-150mm |
| Focusing method: | Spot |
| ISO: | 200 |
| White balance: | Auto |
| Flash: | no |
| Image format: | SHQ |
| Processing applied: | Same as Great Blue Heron - 16. |
| Various: | |
| Image resized to: | 578x960 |