Cottonmouth aka Water Moccasin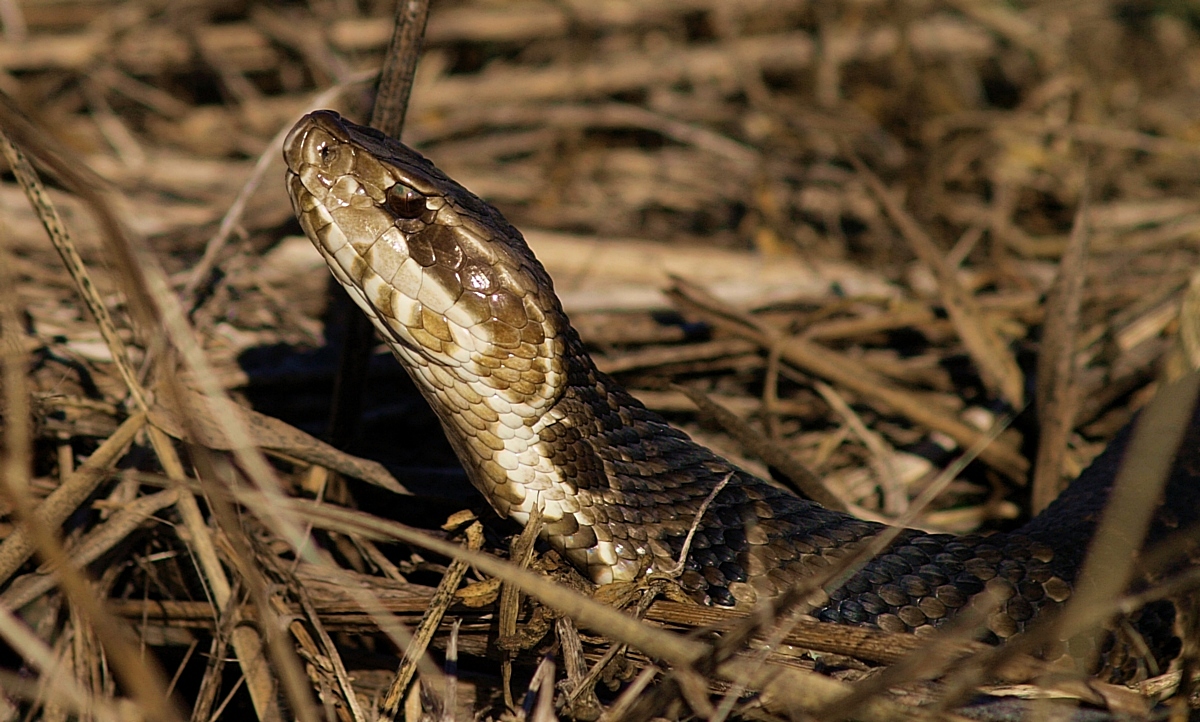 Copyright ©2008, Leon Plympton
Viewed times
This Cotton Mouth aka Water Moccasin (Agkistrodon piscivorus) was photographed this afternoon on Paynes Prairie in north central Florida while sunning itself on a relatively cool (~65 degrees - Fahrenheit) November afternoon .
The Cottonmouth is a pit viper found in the south eastern states of the USA, as far north as Virginia, west to eastern Oklahoma and south to eastern Texas. Like most pit vipers its body is relatively stout and its head has an arrow shape when viewed from above.
It is the only venomous water snake that is indigenous to North America, and while its bite is rarely fatal, it causes tissue damage, swelling and is extremely painful.
This specimen is approximately 3 feet in length. The attached image is s/w larger than life.
| | |
| --- | --- |
| Photographer: | Leon Plympton |
| Folder: | Common area |
| Uploaded: | 17-Nov-2008 06:05 CET |
| Model release available: | |
| Camera: | Olympus E3 |
| Exposure time: | 1/1600 |
| Aperture: | 6.3 |
| Focal length: | 150mm |
| Lens: | 40-150mm (original) |
| Focusing method: | Manual |
| ISO: | 160 |
| White balance: | Auto |
| Flash: | no |
| Image format: | SHQ |
| Processing applied: | Cropped to fit PC monitor (height/width); re-sharpened |
| Various: | ESP Metering; 'A' mode; -0.3 EV |
| Image resized to: | 722x1200 |