Fly By - 1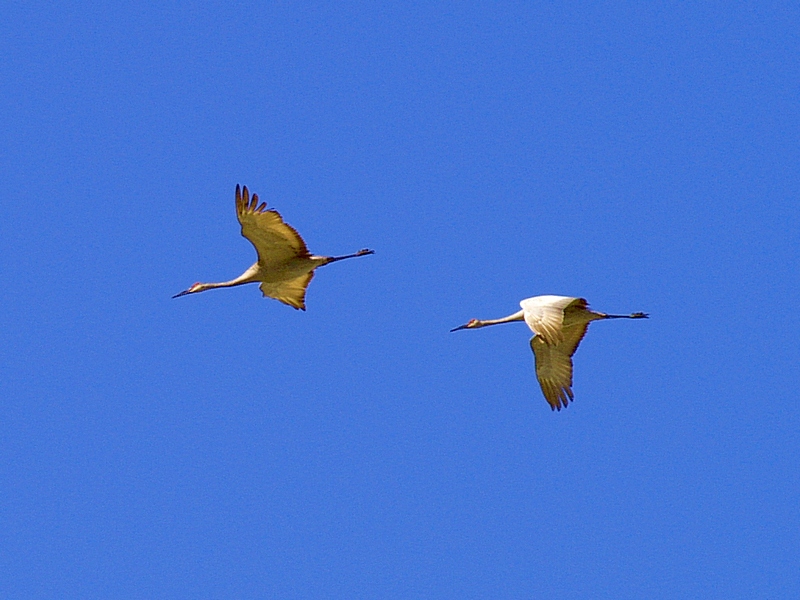 Copyright ©2007, Leon Plympton
Viewed times
Paynes Prairie - FL:
An eco-system south of Gainesville, Florida, spanning an area running east to west across a stretch of US 441 & US I-75, Paynes Prairie supports a wide variety of wildlife, including migratory birds, such as these sandhill cranes, and more sedentary life forms like the rattlers and gators.
Regrettably, these birds did not buzz me; they never got closer than a couple hundred yards or more away. These images have been cropped and re-sized.
In a few weeks the cranes will be long gone, heading north to their summer breeding grounds where the weather is fickle and the temperatures are more chilling than winters in sunny Florida.
| | |
| --- | --- |
| Photographer: | Leon Plympton |
| Folder: | Common area |
| Uploaded: | 06-Mar-2007 01:53 CET |
| Model release available: | |
| Camera: | Olympus E1 |
| Exposure time: | 1/640 |
| Aperture: | 6.3 |
| Focal length: | 150 (300mm) |
| Lens: | ZD 40-150mm |
| Focusing method: | Spot |
| ISO: | 100 |
| White balance: | Auto |
| Flash: | no |
| Image format: | SHQ |
| Processing applied: | |
| Various: | |
| Image resized to: | 600x800 |