Newnans Lake Osprey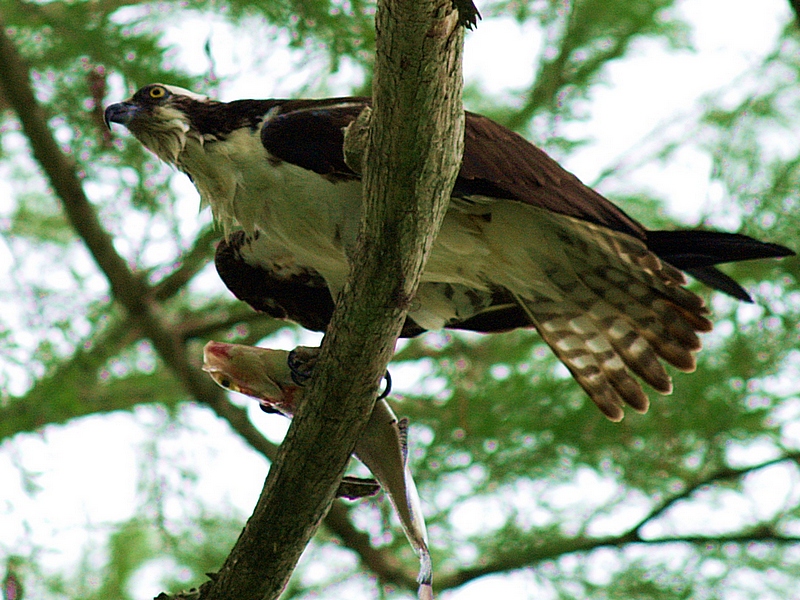 Copyright ©2007, Leon Plympton
Viewed times
This photo was taken this afternoon (~5:30 PM). It was an overcast day and much darker than it would have been otherwise.
My apologies for all the noise but circumstances necessitated a high ISO. Even so, a slow shutter speed and wide open lens was was also required.
I just so happened to catch the osprey as it dove into the lake, partially submerging itself as it grasped the carp; then after a brief struggle it took to its wings and much to my surprise flew almost directly at me, settling in an old cypress tree about 55-60 feet almost directly above me. First to go was the carp's head; within a couple minutes the front third of the fish was consumed.
Fair weather is predicted for tomorrow. Anyone want to guess what I plan on doing then?
Photographer:
Leon Plympton
Folder:
Common area
Uploaded:
31-Mar-2007 02:45 CEST
Current Rating:
8.00/1
View all ratings
Delete my rating
Model release available:
Camera:
Olympus E1
Exposure time:
1/60
Aperture:
f-3.5
Focal length:
150 (300) mm
Lens:
ZD 40-150 mm
Focusing method:
Manual
ISO:
400
White balance:
Auto
Flash:
no
Image format:
SHQ
Processing applied:
SHQ cropped 50%, then re-sized to its current proportions. Some tweaking of the brightness/'gamma' and color saturation was required.
Various:
Image resized to:
600x800